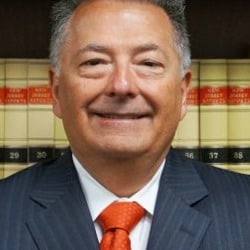 Aside from being a devoted, yet long-suffering Rutgers football fan, Ed Cillick has spent many years in the practice of law.  The Rutgers College and Seton Hall School of Law graduate offers the clients of Cillick and Smith a wealth of experience in litigation with emphasis on criminal defense and civil litigation.
As a former Bergen County Assistant Prosecutor, Ed prosecuted dozens of major cases that included: aggravated sexual assault, kidnapping, arson, and homicide.  He has also provided legal counsel as a Municipal Prosecutor, Municipal Public Defender and as Special Counsel for numerous towns in Bergen and Hudson County, New Jersey.
Ed has worked in private practice for more than thirty years, and in that time has tried more than 100 jury cases with an impressive track record of success, that includes among them a landmark racial profiling case (State v. Ballard and McCoy, 331 NJ Super 529, 752 A.2d. 735 (App. Div. 2000); represented Anthony McCoy.) and a catastrophic workplace injury case which resulted in a $7.7 million settlement for the client.
Well-respected among his peers, Ed has also represented attorneys before the Bergen County Ethics Committee (District II) as well as the Disciplinary Review Board in Trenton. A sought after-speaker, he was a moderator/speaker at the recent New Jersey State Bar Association Mid-Year meeting in Rome, Italy, and spoke on the subject of "Bail Reform and Speedy Trials – The Latest Updates," at the New Jersey State Bar Association Mid-Year meeting in Paris, France.
Additionally, Ed has been an arbitrator, appointed by party attorneys in over one thousand cases.
Many of Ed's cases are referrals from prior clients, as well as fellow attorneys, and he has – and continues to – represent many of his colleagues families.